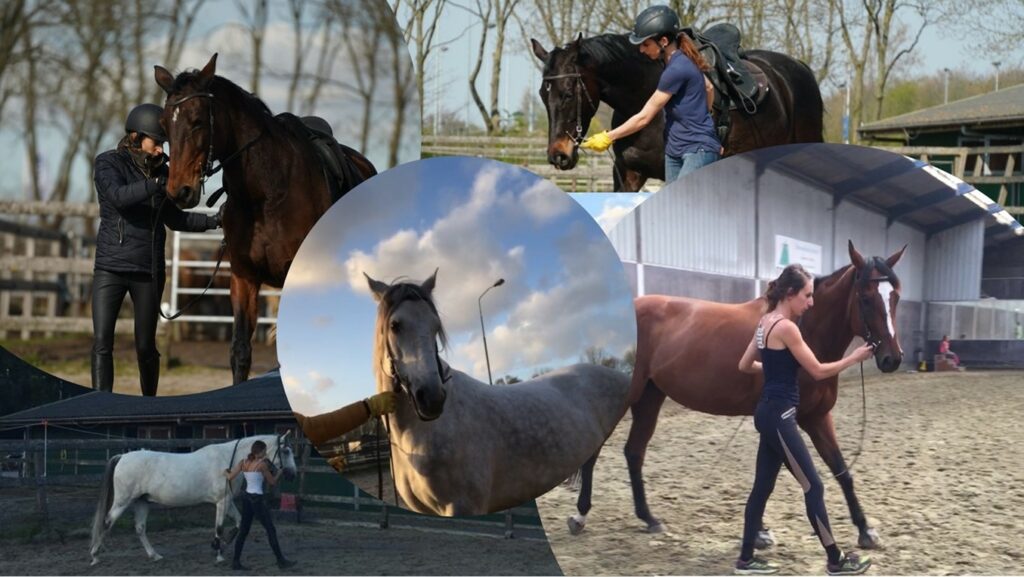 Marta Rovituso will work with you on the bit-work in hand, as training method for your horse. Often horses are against the hands, or they have anxiety for it, as a resistance to a strong and painful pressure in the mouth which they do not understand. Sometimes, under saddle, you experience your horse tensing up during an exercise and it's difficult to explore the cause. The bit work in hand, helps the horses to regain trust in the hand, to understand the meaning of different pressures, and it helps the rider to develop the right feel, right attitude, and the feel of the horse movement through the horse mouth. The bit work in hand is a very powerful tool, which can explain and teach the horse all the work which will be then performed under saddle. In walk and trot, you can ask all different head positions and exercises, as straight flexion, counter-bend, shoulder-in, travers, half-pass, up to the collection.
During this day you will have the occasion to work extensively on the bit work with your horse or a school horse on an individual session, practice different exercises depending on your level and the level of the horse and getting a deeper understand on the details related to feel the mouth of the horse and its response to different pressure. Althea, the old horse of Nicolò Ballatore schooled with EDL since 15 years, will be available for a DEMO during the clinic.
Prices of the clinic:
€120,- for 1 day twice per participant with your own horse
€160,- for 1 day twice per participant with a school horse
Observer:
€ 30,-
Lunch:
€ 10,-
Please register via following link.
About Marta
Marta is a Centered Riding instructor of Level I which started horse riding and training with Nicolò Ballatore in 2017. The horses and the Ecole de Légerèté philosophy became immediately her biggest passion and drive in life, which brought her to dedicate everyday hours of horse training to it, to get a deeper and better understanding of the philosophy and the tools. Always supported and supervised by Nicolò, she started some horses in training, or continuing the work started by Nicolò, giving her the possibility to explore and apply the philosophy on different type horses. Her main experience on the bit-work was to re-educate horses to the hand and to explain the bit from the ground to then translating under saddle.